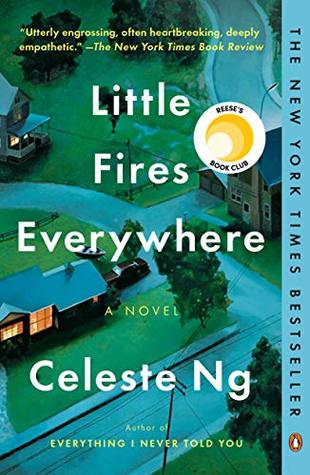 Oh man, what an amazing book!

It's been a while since I've read a book that, from the opening pages I've known was going into my favorites list, but Celeste Ng's Little Fires Everywhere definitely qualified as that for me from about page 6. There is so much care and attention to detail packed into this slim volume, a dense emotional story made up of completely-developed portraits of many characters.

The Richardsons are natives to Shaker Heights, wealthy and self-described liberal and good people, but when Mia and her daughter Pearl arrive, new to town and unused to how planned everything is, they shake up the order of things and cause vast ripple effects that leads the Richardson family matriarch, Elena, into an obsession-driven tailspin from which vast consequences follow. This book is not subtle in its messages--while the character studies here are breathtaking, the actual plot involves a custody battle court case over if a white affluent family, the McCulloughs, are going to be able to adopt a Chinese baby whose birth mother wants back. It's a means for the book to discuss and demonstrate how preaching tolerance and practicing surface-level liberal ideals isn't enough. Indeed, Elena's mantra regarding this case, that the case itself is null and void because we shouldn't see race at all, is illustrative of how performative and self-serving this surface-level tolerance is. Ng does a great job at not turning this argument, Elena, or the Richardson family as a whole into a strawman to take down; the Richardson children, Moody, Lexie, and Izzy, are all beautifully developed throughout the narrative, interacting with Pearl and Mia in bitingly human ways. Each gets their own character arc throughout the book too, and that childhood innocence and wonder at the world is clear and present throughout.

Mia's backstory and how this has shaped her into the nomadic person that she is was itself a huge treat to read, emotionally gripping and occasionally tear-jerking. Her narrative is nicely contrasted by Elena's, the two mothers' backgrounds and ideologies being similar but the one not tamped down by social conformism and thus able to keep that spirit alive, while the other settled for control and order over active engagement and development of self. It's a great contrast because it highlights the pitfalls of white suburbia and only orbiting the actual activism to make the world a better place; donating to charities, throwing your money into fundraisers, writing checks out to other people who have worked hard, been through more, and have more to offer than you will ever be able to because you're safe behind your white picket fence, that these aren't bad ways to be a member of a community but rather that they can only impact the world so much, that it's easy to "not see race" when your proposed default is just you and your own contexts. In contrast to that, Mia's life, her choices and the medium she chooses to put her passion into, photography and studio art, are hands-on; she's been through hell and back, has had first-hand experience with the very issues that the Richardson family is discussing. And how that resolves and the feelings the book leaves you with was just so strong and immensely heartbreaking.

While reading this, I was constantly reminded of To Kill a Mockingbird. This feels very much like a modern-day Harper Lee tale in the best way. The trial and the messages about race are similar, and the characters and the way they're handled here, seeing so much of this through the teenager's eyes, it all feels like a spiritual successor to that great American classic. Where Little Fires differs, though, is that it's not afraid to delve purposefully and unapologetically into different characters' lives besides Pearl's. For much of the story, we follow Elana's journey as she investigates Mia and her history. Watching Elana's righteous attitude gradually give way to this selfish, bullying person, seeing that mask of justice and progressive values slip and you just see exactly what kind of self-centered woman she really is, it truly is a remarkable visage and vision realized in this book.

The Richardson children, teens, really, are fleshed out too. Lexie and Lizzy are impacted differently by Pearl's and Mia's character, the former intrigued at this more tender persona, the latter seeing a life completely alien to her own, yet fully formed and something she desperately wants to have and work for. Moody and Trip, the least developed of the characters, do still have their own great moments, and the teens in general serve as a good foil to their parents and to a larger degree the town Shaker Heights itself. Indeed, Lizzy's actions at the beginning of the book, burning her parent's house down, serves as a microcosm of what the book is ultimately about, of how harmful that sense of order and planning can be, how it's worth taking risks and staying true to yourself, instead of giving in and settling for a passive life while telling yourself you're still doing good in the world. Messages that, yes, have been said and illustrated before, but not nearly as compellingly as these characters did, not nearly with as much propulsion as Ng's writing displayed.

Little Fires Everywhere is definitely going on my favorites shelf. It's such a well-crafted and emotionally empathetic read; all the characters, antagonistic or otherwise, are all rich and fully formed people, and the messages and themes the narrative wants to explore--race, class, performative tolerance versus active inclusion--are explored with deft care, getting at the roots of these ideas without jackhammering the ground in order to do so. Read this if you're a person who loves to spend time with characters and have your emotions displayed in full view to those around you.